Elite Training offer several courses for all your needs. whether you are a teacher, childminder/ nanny, and you require a course recognised by OFSTED, and wish to register on the Early Years and Childcarers registers, or you are a coach of a local childrens football or rugby team or maybe you're a parent with a wish to have the peace of mind that you could care for your children in an emergency situation.

All of our paediatric courses are regulated and accredited and follow all of the latest U.K. RESUSCITATION COUNCIL standards.
The courses are supported with professionally produced manuals and D.V.D./ slide support.
The courses are fun and easy to learn with. They are relaxed and can be run at a venue of ours or at a place convinient to you.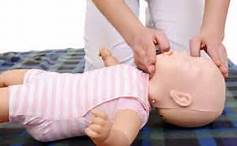 WE ALSO RUN REFRESHER COURSES FOR ALL PEADIATRIC FIRST AID COURSES AS RECOMMENDED BY GOVERNING BODIES.

PLEASE FEEL FREE TO CONTACT US AND DISCUSS A COURSE FOR YOUR TRAINING NEEDS

01752 364065
07837 717920