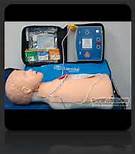 Elite Training runs a half day course in AUTOMATED EXTERNAL DEFIBRILATION (A.E.D.) which conforms to the current Resuscitation Council U.K. guidelines.
the A.E.D. is used to administer measured electric shocks during CPR to people in cardiac arrest and is the best way of increasing the casualties survival. The chances of successful resuscitation declines ata rate of about 7-10% a minute without the use of an A.E.D.
Basic life support may help to sustain a shockable rythym but it is not a definititive treatment.

With the use of A.E.D.'s becoming more widely available it is important to know the correct procedure for their use.

WE CAN ALSO PROVIDE ADVICE ON PURCHASING THE CORRECT EQUIPMENT FOR YOUR NEEDS AND TRAINING SPECIFIC TO YOUR ORGANISATION.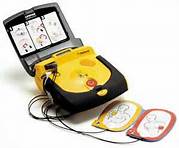 PLEASE FEEL FREE TO CONTACT US AND DISCUSS A COURSE AND YOUR TRAINING NEEDS

01752 364065
07837 717920